Por Pedro Kirsten
Há 38 anos atrás era lançado o álbum Machine Head do Deep Purple, um dos maiores clássicos do Rock, e nele está contida a famosa música Smoke On The Water. O grande hit da banda é apreciado até hoje, seja por jovens que não eram nasidos na época ou por pessoas que acompanham o Deep Purple desde o primeiro disco.
Mas afinal, sobre o que é a letra da música? A letra conta uma história verídica ocorrida em 4 de dezembro de 1971 na cidade de Montreux. O Deep Purple estava na cidade para gravar o Machine Head em um estúdio de gravação móvel, esse estúdio havia sido usado anteriormente pelos Rolling Stones e foi apelidado de Rolling Stones Mobile Studio, foi daí que surgiu o trecho: "But with the Rolling truck Stones thing just outside/ Making our music there".
Um dia antes do início das gravções ocorreria um show de Frank Zappa com o The Mothers Of Invention no Cassino de Montreux. Durante o solo de sintetizador de King Kong, um dos presentes disparou um sinalizador, iniciando um enorme incêndio. Todo o equipamento do The Mothers Of Invention e o complexo do cassino foram destruídos pelo fogo.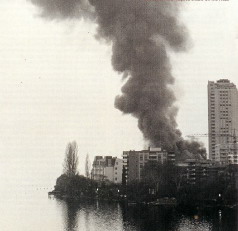 A banda acompanhou tudo do hotel, que ficava de um lado do lago de Genebra e o cassino em chamas do outro. A fumaça se espalhou pelo local e foi quando o baixista Roger Glover viu a fumaça refletida na água do lago que o termo
Smoke On The Water
surgiu.
O trecho "Funky Claude was running in and out /Pulling kids out the ground" se refere à Claude Nobs, diretor do Festival de Jazz de Motreux, que ajudou uma parte da pláteia a fugir do incêndio.
Como o estúdio de gravação movel se encontrava no complexo do cassino, a banda foi obrigada a encontrar um novo local para se instalar. A banda foi então para o teatro The Pavillion, porém quando começaram a tocar o barulho foi tão alto que a vizinhança teve que chamar a polícia para interromper a sessão. A banda só teve tempo de gravar as faixas de fundo para uma música que continha o espetacular riff de Ritchie Blackmore que seria utilizado em Smoke On The Water.
Após uma semana a banda finalmente encontrou um local para finalizar as gravações, alugaram o Grand Hotel de Montreux, que estava praticamente vazio, e improvisaram um estúdio em alguns corredores e escadas do hotel.
Machine Head estava finalmente pronto e foi lançado em março de 1972, porém Smoke On The Water só foi lançada como single em maio de 1973, após isso vocês já conhecem a história...