É quase impossível definir com precisão quando algum movimento artístico se inicia. Apesar de ter um determinado momento chave e crucial, tudo se dá por um conjunto de fatores e pessoas. Com o heavy metal é a mesma coisa. As opiniões sobre a primeira música e álbum do estilo variam.
Inúmeros discos foram lançados nos últimos anos da década de 1960 e no começo da década seguinte que, juntos, definiram uma boa parte do heavy metal e da música pesada em geral. A lista que você vai ver a seguir pode não conter os melhores discos do que veio a se chamar proto-metal - som pesado que veio antes do metal em si, também sendo rotulado algumas vezes como hardão -, mas sim álbuns essenciais, que ajudaram na formação e lhe ajudará, de certo modo, a enteder esse gênero tão complexo e diversificado que é o heavy metal.
The Beatles - The Beatles (White Album) (1968)
O White Album, como é mais conhecido, não é bem um disco de proto-metal. Tem até várias baladas, tais como ''While My Guitar Gently Weeps'', ''Dear Prudence'' e ''Blackbird'', e até uma peça cômica (''Ob-La-Di, Ob-La-Da''), mas trazia a primeira canção de heavy metal da história, seu nome é ''Helter Skelter''. Esse divisor de águas surgiu após Paul McCartney ler uma entrevista de Pete Townshend na revista Melody Maker, onde o guitarrista do The Who afirma que ''I Can See For Miles'' era a música mais alta, suja e barulhenta que sua banda já havia feito. McCartney descordou, acho que tudo não passava de um ''caos organizado'' e resolveu criar sua canção mais alta, suja e barulhenta. Assim surgiu o primeiro heavy metal - ainda que o termo só fosse inventado anos depois. O famoso assasino Charles Manson adotou ''Helter Skelter'' como um hino, e disse também que a letra fazia profecias de uma ''apocalíptica guerra racional''.
Até hoje, o metal é mal visto pela mídia de massa, que quando descobre que algum assassino gosta do gênero, persegue todos os headbanguers e estampa capas de revistas com títulos similares a ''Música para matadores'', ''O som do capeta'' e etc.
Blue Cheer - Vincebus Eruptum (1968)
O Blue Cheer é uma espécie de heavy Cream norte-americano. Sua coluna dorsal é o blues, mas desconfigurado com distorções e feedbacks. A versão sujona - e definitiva - de ''Summertime Blues'', tazia o vocal cru de Dickie Peterson aliado com som denso da bateria de Paul Whaley. ''Out Of Focus'' e ''Parchment Farm'' demostravam a força destruidora das seis cordas Leigh Stephens com riffs cadenciados e solos distorcidos. Não apenas um dos melhores discos de estréia da história, mas ''
um marco dos primeiros tempos do heavy metal
'', como diria Tom Hughes, co-editor da bíblia da música ''1001 discos para ouvir antes de morrer''. Curiosidade: na primeira vez que o trio tentou gravar
Vincebus Eruptum
, a mesa de mixagem estourou.
Steppenwolf - Steppenwolf (1968)


Apesar de hoje estar associado a grupos de motocliclistas em suas Harley Davidson´s, os canadenses do Steppenwolf já foram um grupo de muito sucesso, com 23 discos de ouro. O grupo teve início com o nome de Sparrow, tocando blues e em seguida folk, até que o produtor Gabriel Mekler sugeriu que a banda tomasse o rumo do hard rock. Seguindo o caminho apontado por Makler, o Steppenwolf gravou
Born To Be Wild
, que foi usada como música tema do filme
Easy Rider (Sem Destino)
. Trazia em sua letra a passagem ''
Heavy Metal Thunder
'', a primeira vez que o termo ''heavy metal'' era usado na música - já havia sido usado na literatura e ''heavy'' era uma gíria usada pelos hippies. Também é considerada por muitos o primeiro heavy metal.
Jeeff Beck - Truth (1968)
Após saírem dos Yardbirds, Jimmy Page e Eric Clapton tiveram uma carreira de sucesso. Com Jeff Beck não foi bem assim, mas sua genialidade sempre esteve presente, o que gerou discos históricos, como é o caso de Truth, onde Beck pôs em prática as experimentações que tinha em mente. O que chama atenção é o super time reunido pelo guitarrista: Rod Stewart (na época, um ilustre desconhecido), Ron Wood (que depois entraria para o Rolling Stones) no baixo e os convidados especiais Jimmy Page e Keith Moon, que tocaram na famosa ''Beck´s Bolero''.
Truth poderia ser rotulado como ''essencial'' uma banda dessas tocando, mas ainda há excelentes momentos sem os convidados, como ''Shapes Of Things'', ''Rock My Plimsoul'' e ''Morning Dew''.
MC5 - Kick Out The Jams (1969)
O MC5 foi descoberto por acaso. A Elektra estava interessada em contratar o Stooges, até que a diretora da gravadora, Danny Fields, assistiu a um show do grupo em Chicago e deu uma chance aos rapazes. O disco de estréia foi gravado ao vivo, o que captou toda a energia destrutiva do MC5 em faixas como ''Come Together'', ''Ramblin´Rose'' e o clássico que dá nome ao álbum, eternizada pela frase que o vocalista Rob Tyner usava para anunciá-la ''Kick out the jams, motherfuckers'', quase como um chamado para a guerra.
Na época, a imprensa musical detonou o álbum. O famoso crítico Lester Bangs disse que era ''ridículo, arrogante e pretencioso''. Hoje, está em listas de ''álbuns definitivos do rock n´roll'' e tem nota máxima no site All Music Guide, onde qualquer usuários avaliam tal disco e o site cria uma média com os votos; ou seja, todos que avaliaram Kick Out The Jams lhe deram nota máxima.
Led Zeppelin - Led Zeppelin (1969)
As maiores influências do Led Zeppelin eram o folk (que seria mais explorado no seu terceiro disco) e o blues, como fica claro em ''You Shook Me'' e ''I Can´t Quit You, Baby'', duas canções do bluesman Willie Dixon. Entretanto, a guitarra afiada, límpida e direta de Jimmy Page, a voz aguda de Robert Plant e os sucessivos ataques de John Bonham e John Paul Jones em faixas como ''Communication Breakdown'', ''Good Times, Bad Times'' e ''Dazed and Confused'' elevaram o Led para referência da música pesada até os dias atuais. Em seu disco de estréia, o que se ouve é apenas uma prévia de uma banda prestes a dominar o mundo e que definiu a música da década seguinte.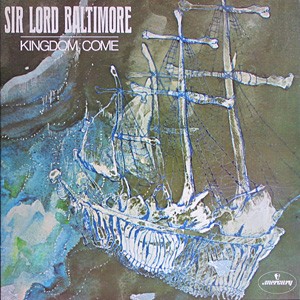 Sir Lord Baltimore - Kingdom Come (1970)
O Sir Lord Baltimore teve apenas três discos lançados - sendo um em 2006 com uma reunião do power trio que o formava -, mas o seu debut, Kingdom Come foi, junto com o Vincebus Eruptum, do Blue Cheer, a pedra fundamental do início do metal, e é o disco de estúdio mais pesado nesse top 10. O som do ''Sir Lordão'', como é carinhosamente chamado pelos fãs, conquista pela sua descontração típica do rock da década de 50, como ''Helium Head'' e ''I Got A Woman'' e os riffs alucinógenos, como ''Kingdom Come''.
Mountain - Climbing! (1970)


Considerado por muitos como o melhor disco do Mountain,
Climbing!
foi a estréia do quarteto americano que contava com duas figuras já conhecidas: o baixista Felix Lappardi, que foi produtor do Cream, e o guitarrista e vocalista Leslie West, que gravou outra pélora do hard pesado no anterior, chamado
Leslie West Mountain
.
A emocionante "Theme For An Imaginary Western", e as acústicas ''To My Friend'' e ''Laird'' podem fazer as pessoas se perguntarem por qual motivo esse disco é tão aclamado pelos fãs de hard rock setentista, mas os riffs trovejantes de ''Silver Paper'', ''Never In My Life'' e clássica ''Mississipi Queen'', a canção mais famosa do quarteto, fazem jus a recomendação do verso do LP: ''
This Record Was Made To Be Played Loud
'', em bom português, ''Este disco foi feito para ser tocado alto''.
Black Sabbath - Black Sabbath (1970)
A reação do pai de Ozzy ao ouvir o primeiro LP do Sabbath foi: ''Você tem certeza que só anda fumando cigarro?'', e ainda fez uma corrente com uma cruz de alumínio para cada um dos integrantes da banda. O pai do lendário vocalista não foi o único a se assustar com o som da banda, Ozzy e o baixista Geezer Butler disseram que quando começavam a tocar, as pessoas saim correndo com medo. Eles tinham começado como um grupo de blues, o Mithology, mas mudaram seu estilo após Butler, fã de filmes de terror, ter a ideia de fazer ''música de terror''.
A faixa título, que narra uma ''invasão'' do demônio à terra, se tornou um verdadeiro hino, e a atmosfera tensa e sombria criada pela banda definiu, basicamente, o som do heavy e inventara o doom metal.
Deep Purple - In Rock (1970)
O Deep Purple já havia lançado três discos de estúdio e um ao vivo, todos transitando pelo universo pop e até leves doses de psicodelia. In Rock foi uma total virada de mesa, com a banda a investindo no rock pesado. Faixas como ''Bloodsucker'', ''Hard Lovin´Man'' e ''Flight Of The Rat'' deram ao Purple um lugar no hall das bandas mais barulhentas de sua época, mas com instrumentistas de muita técnica, como mostra ''Child In Time'', um improviso que o tecladista Jon Lord fazia sobre ''Bombay Calling'', da banda psicodélica It´s A Beautiful Day. A impecável interpretação de Ian Gillian em ''Child...'', lhe rendeu o papel de Jesus na primeira versão da ópera-rock Jesus Christh Superstar após os diretores ouvirem uma versão ainda não lançada da canção.