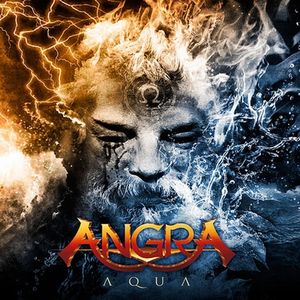 Nota: 9


Quatro anos após o lançamento do criticado Aurora Consurgens, o Angra está de volta com seu mais novo álbum, Aqua. Inspirado na peça de Shakespeare, A Tempestade, Aqua vem com a proposta de trazer de volta elementos da banda presente em álbuns anteriores, começando pelo retorno de Ricardo Confessori, mas tudo isso sem deixar de evoluir musicalmente.

Como de costume o álbum começa com uma faixa introdutória orquestrada e com alguns coros. Esta é logo seguida pelo primeiro single do álbum, Arising Thunder. Rápida e com um toque de metal neoclássico, Arising Thunder funciona bem no contexto em que é colocada no álbum. Apesar de ser um single a música não chega nem perto de mostrar o que o álbum realmente tem a oferecer, o que é um ponto bastante positivo para alguns, levando em consideração as críticas bastante variadas que a faixa recebeu após seu lançamento.

Awake From Darkness, soa uma típica música do Angra. Tem um ótimo trabalho de percussão e guitarras, mas o que faz a música ganhar destaque é o belo interlúdio de piano e violino no meio da faixa, há uma queda de ritmo bastante drástica nesse trecho e surpreende na primeira audição. O piano e o violino dão espaço para um solo de guitarra antes da música se reestabelecer no ritmo inicial.

Lease Of Life é uma bela balada, o piano soa bem, assim como as guitarras. O destaque nessa faixa fica com Edu Falaschi que conseguiu encontrar um timbre que se encaixa perfeitamente com a música.

The Rage Of The Waters, com riffs pesados e boa linha de baixo, possuí um toque de progressivo, que fica mais evidente nas faixas seguintes, o ponto fraco da música é o refrão que anima pouco.

Um dos destaques de Aqua é sem dúvidas Spirit Of The Air. Esta possui um clima que lembra bastante o álbum Temple Of Shadows. Há belos arranjos de violão com alguns coros ao fundo deixando a música mais atmosférica.
O clima um pouco mais leve de Spirit Of The Air é imediatamente quebrado por Hollow, faixa mais pesada e obscura do álbum. Hollow possuí várias quebras de ritmo e mudanças de harmonia além de ótimos timbres de guitarra e o trabalho de baixo e bateria de Ricardo Confessori e Felipe Andreoli ficou matador.

A Monster In Her Eyes é uma faixa bastante interessante, com bons arranjos e linhas vocais a música possui um pouco daquele toque mais progressivo citado anteriormente que aumenta muito mais na penúltima faixa do disco: Weakness Of A Man. Esta última citada é extremamente bem trabalhada e variada, uma ótima composição da dupla Kiko Loureiro e Rafael Bittencourt.
Ashes, com bons arranjos e melodia, encerra muito bem o álbum.

Em Aqua podemos perceber que a banda, apesar das várias mudanças de formação entre outros problemas ao longo da carreira ainda consegue apresentar composições de ótima qualidade. Aqua é um disco inspirado e aos poucos vai flertando cada vez mais com outros gêneros musicais como o progressivo e o clássico, porém não apresenta nehuma mudança drástica na sonoridade da banda. Isto pode-se considerar o correto a fazer, pois o momento não era de grandes mudanças e sim de resgatar aquilo que a banda sabe fazer de melhor e acrescentar os detalhes que enriquecem o álbum, a volta de Ricardo Confessori foi um dos pontos que contribuíram para que isto fosse possível.
A dupla de guitarristas, Kiko Loureiro e Rafael Bittencourt, fez novamente um bom trabalho assim como Felipe Andreoli e Ricardo Confessori, também vale a pena destacar Edu Falaschi que mudou sua forma de cantar, sem tentar alcançar notas muito altas e sem soar forçado, e encontrou alguns timbres bastante densos, acredito que devido a isto não haverá problemas para ele na execução do álbum nos shows.
Enfim, Aqua é um lançamento bem sólido e que com certeza agradará (e vem agradando) a maioria dos fãs. Destaques para: Spirit Of The Air, Weakness Of A Man, Hollow e Awake From Darkness.
__________________________________
Comente também sobre o Angra no Forum Metal Is The Law.