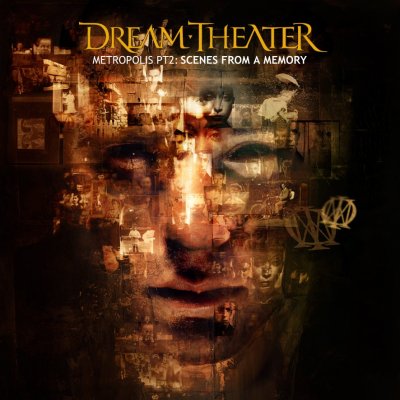 Por Pedro Kirsten

Em Outubro de 1999 era lançado Metropolis Pt.2: Scenes From A Memory, quinto álbum de estúdio do Dream Theater, muitas vezes considerado uma obra-prima não só da banda, mas sim de todo o progressive metal. Porém para esta matéria deixaremos a parte musical um pouco de lado para tratarmos de outro ponto importante e interessante do álbum: o conceito que o envolve.

Scenes From A Memory é dividido em dois atos. Devido ao tamanho da matéria o post foi dividido em dois, onde neste trataremos do Ato I e no próximo o Ato II.

O álbum dá continuidade à música Metropolis Pt. 1: The Miracle And The Sleeper presente no álbum Images & Words, e conta a história de Nicholas e sua descoberta de uma vida passada. É recomendado que também se leia as letras e ouça o álbum para que a história fique mais clara.

Ato 1:
Cena Um: Regression O álbum inicia com Nicholas relaxando aos sons da voz de um hipnoterapeuta, fazendo-o entrar em hipnose em um estado de regressão (a chamada terapia de vidas passadas). Partes de The Spirit Carries On e Home podem ser ouvidas ao fundo. A música termina com Nicholas se encontrando com uma garota chamada Victoria.

Cena Dois, Parte I: Overtue 1928 Nicholas entra em um estado de transe e começa a se focar no motivo de sua regressão, uma garota chamada Victoria ao qual ele sente que sua vida seja estranhamente similar a dela. Vários trechos de outras músicas do álbum além de um de Metropolis Pt.1 fazem parte de Overtue 1928.

Cena Dois, Parte II: Strange Déjà Vu Descobrimos um pouco sobre os sonhos anteriores que levaram Nicholas a esta terapia. Descobre-se que toda a vez que ele fecha os olhos ele é levado para este sonho, que parece bastante real, de uma vida passada (ainda fora do alcance de compreensão de seu consciente).
O sonho segue da seguinte maneira: há uma trilha para uma casa. Dentro da casa, no andar de cima há um quarto com uma garota que aparece no espelho. Tudo parece similiar para ele, mas logicamente não deveria. Por Nicholas estar em um estado de transe hipnótico algumas coisas aparecem mais claras neste sonho, ele pode ver o rosto da garota e pergunta: "Jovem garota, você não me dirá porque estou aqui?" ("Young child, won't you tell me why I'm here?"). Ele percebe que ela tem algo a dizer, que há uma razão para ela ter o atraído até lá, uma história para ser contada e que há algo terrível nesta história que está rasgando sua alma ("tearing at her soul").
Victoria, a garota de seus sonhos, dá sua primeira dica do porque ela está perseguindo Nicholas. Ela está procurando uma maneira de revelar a verdade sobre seu assassinato. Ela também expressa um grande lamento ("tears my heart in two"). Este verso com o seguinte, "I'm not the one the Sleeper thought he knew", mostra sua culpa por Julian Baynes, seu namorado, nunca ter sabido de seu relacionamento com seu irmão, Edward Baynes, ao qual descobriremos mais tarde.
Agora Nicholas termina a regressão e volta à vida real. Mesmo acordado, pensamentos e eventos de sua vida passada começam a permear sua mente durante o dia todo e ele começa a se tornar obcecado pela verdade. É aqui que ele começa a sentir que ele já viveu no mundo de seus sonhos. Ele sabe que o mundo de seus sonhos possue a chave para sua paz, e ele não descansará até destrancar esta porta.

Cena Três, Parte I: Through My Words Nicholas finalmente percebe que ele foi Victoria em uma vida passada. Agora ele sabe porque ele se sente tão atraído por ela e seu mundo: eles dividem a mesma alma.

Cena Três, Parte II: Fatal Tragedy Ainda na vida presente, Nicholas vai até a casa de um homem velho, ao qual não se sabe nada a respeito, apenas que ele conhece um pouco da história do assassinato de Victoria, acontecido há muito tempo atrás, porém o que realmente aconteceu ainda permanece um mistério.
Nicholas percebe que ele não pode viver sua vida atual em paz até descobrir o que aconteceu com Victoria. A música termina quando Nicholas retorma para mais uma regressão e escuta o hipnoterapeuta lhe dizer: "Agora veremos como você morreu. Lembre-se, a morte não é o fim, é apenas uma transição."

Cena Quatro: Beyond This Life Descobrimos através da uma narrativa de um jornal o que aconteceu em 1928. Uma testemunha ouviu um som terrível e quando chegou na cena viu uma mulher, morta após ser baleada, e o assassino sobre ela. A testemunha tentou ajudar, mas o assassino se suícidou com um tiro. O jornal identifica ambos como possíveis amantes.
O jornal ainda explica que Victoria e seu namorado haviam terminado devido ao estilo de vida decadente que ambos levavam, é mais tarde sugerido que o vicio ao jogo e/ou drogas do homem foram os motivos (provavelmente álcoolismo, pois Julian deixa cair uma garrafa de licor na cena 9).

Cena Cinco: Through Her Eyes Nicholas visita o túmulo de Victoria, e se dá conta que tudo isso aconteceu com ele também, e a injustiça da história começa a incomodá-lo, pois ela era extremamente indefesa e inocente, as palavras em seu túmulo comprovam isso. Ele se sente extremamente triste pela morte de Victoria, este momento de dor foi necessário para que ele aceitasse sua morte em uma vida anterior e compreendesse o motivo desta vida ter re-aparecido à ele: revelar a verdade.


Clique aqui para conferir a segunda parte desta matéria.
______________________
Comente também sobre o Dream Theater no Forum Metal Is The Law.