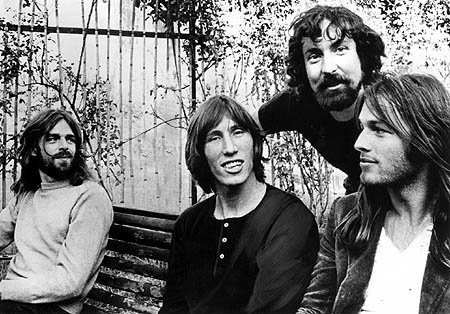 A nossa semana especial agora tem seu momento com a banda mais bem sucedida do Rock Progressivo: Pink Floyd. A banda Inglesa alcançou status de lenda do Rock nos anos 70, após apresentações grandiosas, cheias de teatralidade e o sucesso de vendas de discos como Dark Side Of The Moon, Wish You Were Here e The Wall. 
Mas o Pink Floyd não teve essas características durante toda a sua vida. Em 1964 estava sendo formada uma banda que contava com Nick Mason na bateria, Roger Waters no baixo, Richard Wright nos teclados e piano e Syd Barret, guitarrista, vocalista e principal compositor do grupo. O grupo foi rejeitado pela crítica da época, que não entendia a música de bandas como o Pink Floyd, mas os jovens, que se afundavam cada vez mais no LSD e na psicodelia amaram o quarteto.
O primeiro Single do Pink Floyd foi Arnold Layne, música que falava sobre um travesti que roubava roupas íntimas. Como é de se esperar, essa não foi uma música que levou a banda à mídia; isso veio a acontecer com o segundo single, See Emily Play, que fala sobre uma jovem aristocrata psicodélica. 
Enquanto a banda ia sendo mais aceito por parte de crítica e público, o líder do Pink Floyd não ia bem; Syd Barret se afundava cada vez mais no vício do LSD e acaba saindo da banda. Antes de sair da banda, Syd trouxe à banda mais um guitarrista e vocalista, David Guilmor, que tocou junto com Syd e o resto da banda no segundo disco, A Saucerful Of Secrets.
Depois de Syd Barret, o Pink Floyd adotou a teatralidade para os seus shows, algo que se tornaria sua marca registrada mais tarde. Um grande momento teatral da banda foi o show que eles fizeram no anfiteatro de Pompei, na Itália, que foi destruído por lava vulcânica há quase 2.000 anos.
Apesar de alcançar grande fama na Inglaterra, eles ainda não eram muito conhecidos nos EUA, mas isso mudou a partir do Dark Side Of The Moon, um disco conceitual, que falava sobre guerra, loucura e as pressões do mundo moderno. A partir do Dark Side Of The Moon o som do Pink Floyd ficou menos experimental, mas não menos progressivo; tornou-se mais maleável e mais fácil gostar da banda, assim Dark Side Of The Moon foi sucesso não só nos EUA, mas no mundo todo, tornando-se o terceiro disco mais vendido dos dias atuais, com mais de 40 milhões de cópias vendidas no mundo inteiro.A partir do Dark Side, banda lançou outros discos que lhe renderam conseguiu mais fãs e mais hits, como Confortably Numb, Wish You Were Here, Another Brick In The Wall e Run Like Hell. 
Mais tarde, Roger Waters decidiu sair da banda, e sem ele, foi gravado o disco A Momentary Lapse Of Reason. Mesmo sem o principal compositor da banda, o disco ficou em terceiro lugar no Reino Unido, mas assim como em seu sucessor The Division Bell, o disco recebeu muitas críticas, dizendo que apenas David Guilmor participou, e com mais algumas brigas, a banda acabou.
Em 2005, a banda se reuniu, e com o aumento significativo em CD´s da banda, começaram os rumores sobre mais uma turnê da banda, porém, em 2006 Guilmor negou tudo. Esse ano Waters confirmou que irá se encontrar com Guilmor para mais um show. Eis sua declaração no seu Facebook:
"Como poderia recusar tal oferta? Eu não poderia, não tinha como. Generosidade ultrapassa o medo. E assim explicando que eu provavelmente seria uma droga [nos vocais do dueto], mas se ele não se importava, eu também não me importaria. Eu concorde e o resto é História. Nós tocamos junto e foi excelente. Fim da história. Ou possivelmente, o início"