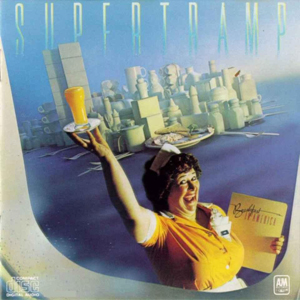 Lançado em 1979, Breakfast In America é o sexto álbum de estúdio dos britânicos do Supertramp. Este é também um de seus discos mais populares.

Logo na primeira faixa, Gone Hollywood, já pode-se notar o bom trabalho de sax de John Helliwell, que também se sobressai em mais faixas ao decorrer do disco.

Músicas como The Logical Song, um dos destaques e maior sucesso do álbum, mostam a voz inconfundível de Roger Hodgson, além de possuir uma ótima letra. Na música seguinte, Goodbye Stranger, é a vez dele se destacar na guitarra.

Breakfast In America, um dos singles do disco, é a música mais curta do álbum e sua letra fala de uma pessoa que nunca esteve na América. O que faz essa música soar bem é, principalmente, o teclado de Rick Davies e o clarinete de John Helliwell.

Oh Darling apesar de ser pouco comentada não decepciona, possuí ótimos arranjos. No lado B temos Take The Long Way Home, com a combinação de Rick Davies na gaita e Helliwell no saxofone, é uma das mais conhecidas de Breakfast In America, e não é para menos, pois se trata de uma ótima música que dá um ritmo diferenciado para o disco.

Na sequência temos a bela Lord Is It Mine, também com excelentes arranjos, seguida de Another Nervous Wreck com um dos refrões mais fortes do álbum e com a guitarra mais presente.
O álbum encerra com a relaxante Casual Conversations e Child Of Vision cheia de sintetizadores.

Breakfast In America é um álbum tão bom e variado que fica difícil não gostar. A banda inteira dá um show, sejam os vocais de Davies e Hodgson, o sax de Helliwell ou a bateria e o baixo de Bob Siebenberg e Dougie Thomson que enriquecem muito as músicas na parte rítmica. A ótima produção também contribuiu para que o resultado final fosse positivo.
Para que ainda não ouviu o trabalho do Supetramp Breakfast In America é um bom lugar para começar.


1. Gone Hollywood
2. The Logical Song
3. Goodbye Stranger
4. Breakfast In America
5. Oh Darling
6. Take The Long Way Home
7. Lord Is It Mine
8. Just Another Nervous Wreck
9. Casual Conversations
10. Child Of Vision
Comente também sobre o
Supertramp
no
Forum Metal Is The Law
.