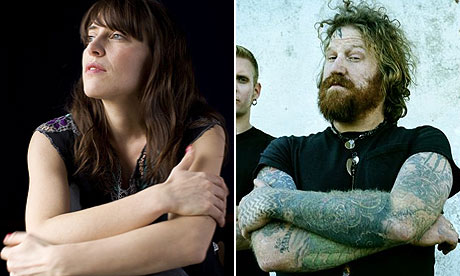 A cantora de folk Feist irá se juntar com a banda de heavy metal Mastodon para um single no ano que vem. A ideia surgiu em outubro quando a cantora se encontrou com o frontman Bret Hinds nos corredores da BBC, onde ambos começaram a conversar e a elogiar a música um do outro.
Em entrevista à MTV canadense, o Mastodon revelou que o projeto será um single onde um cantará uma música do outro. ''A ideia é o Mastodon tornar uma canção da Feist suja para bater cabeça, enquanto que a Feist escolherá uma do Mastodon a deixará um pouco mais bonita.'', comentou o baixista Troy Sanders.
Em entrevista ao jornal The Guardian, Feist contou que deve fazer uma versão de ''Oblivion'', do novo álbum
The Hunter
, que nas palavras da canadense, é ''um disco incrível''. Ela ainda comentou que a música preferida de Hinds é ''Bad In Each Other'', e provavelmente será a escolhida pelo Mastodon para ganhar a versão.
O projeto será lançado como vinil de 7 polegadas no Record Store Day internacional, que acontece no dia 21 de abril de 2012, com intuito de ajudar lojas de discos independentes.
Ouça abaixo ''The Bad In Each Other'', da Feist, e ''Oblivion'', do Mastodon: