2010 foi um ano muito produtivo para a música.
Bandas novas apostaram em seus debuts, assim como as bandas já denominadas "clássicas", apostaram em novas sonoridades para seus recentes trabalhos. O fanatismo, pelo menos eu, tentei deixar de lado. Logicamente alguns álbuns foram omitidos e poderiam, assim como esses, estar em qualquer outra lista. Portanto, aqui estão os 10 Melhores Discos de 2010, na minha opinião. Concorda com ela, ou discorda? Não se esqueça de comentar.
Lista por
Guilherme Cruz.
10º) Blood of the Nations
- Accept
Álbum impecável. Na primeira audição já se tem idéia do que a banda pretendia com o álbum: retornar para ficar. Totalmente True Heavy Metal.
9º) Wilderness Heart - Black Mountain
Apostando em uma sonoridade mais heavy e construída através de melodias elaboradas por violões limpos, guitarras lisérgicas e teclados bem atmosféricos, o Black Mountain vem construindo sua própria identidade musical baseada, em partes, na nostalgia.
8º) Black Country - Black Country Communion
Entre os recentes lançamentos dos tão falados supergrupos, é do Black Country o que mais surpreende. Graças às particularidades de cada integrante - o Soul/Funk de Hughes, o Blues de Boanamassa, o apelo Progressivo de Shirinian e o Hard de Jason Bonham - aliadas a ótima produção por parte de Kevin Shirley, o álbum se torna envolvente e poderoso.
Com o segundo álbum a banda consegue transpor o status de apenas promessa. Fazendo um Southern Rock de qualidade e apesar de beber da mesma fonte de

Lynyrd Skynyrd e ZZ Top, o Hogjaw consegue criar uma característica própria com os vocais de Jon Boat Jone

s

e
uma sonoridade criativa com músicas marcantes, algumas vezes puramente arrastadas, outrora verdadeiros hardões.
6º) Dirty Side Down
- Widespread Panic
Nos arranjos iniciais de Saint Ex, o ouvinte já se impressiona com as delicadas melodias sendo quebradas por um trecho denso, dissonante e logo após com o retorno aos vocais sutis cantados em dueto. Widespread Panic é um álbum maravilhoso e sobretudo atemporal.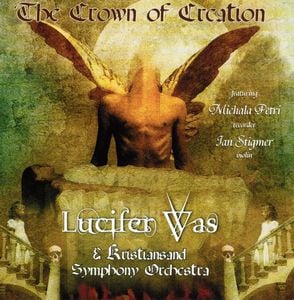 5º) The Crown of Creation
- Lucifer Was
Com seu quinto álbum de estúdio, os veteranos do Lucifer Was mostram mais uma vez o que melhor sabem fazer: Rock Progressivo de qualidade. Dessa vez, uma orquestra inteira foi parar com a banda no estúdio, resultando em composições épicas e como já é de praxe, aliando o peso descomunal de guitarras e teclados a leveza dos instrumentos eruditos.
4º) Skyground - Langfinger
Hard/Heavy contemporâneo e apesar de, logicamente, se basear nas pérolas dos anos 60 e 70, não as copia, como se pode ouvir em muitos álbuns atuais. O álbum é composto de um petardo atrás do outro, todos frescos e originais.
Power trio incrivelmente criativo.
3º) Aquarius - Haken
Aquarius é o debut da banda Haken. O álbum já era ansiosamente esperado e não decepcionou em nada, foi altamente elogiado pelas mídias especializadas em prog rock/metal e música em geral, fundindo perfeitamente jazz e metal. Prog complexo, virtuoso e original.
2º) Suspicious Package - Earl Greyhound
O que há de melhor no Hard, Blues e Psicodelic, com muito peso e acréscimo de sonoridades diversas, entre pequenas incursões na música latina, no folk e no experimentalismo. Esse é o som do power trio Earl Greyhound. Dosados de pura originalidade, não se parecem com nada do que anda sendo feito por aí.
1º) Itaca - The Soulbreaker Company
Apresentando grandes evoluções a cada álbum lançado, o Soulbreaker vem ganhando destaque ao incorporar novos elementos as suas composições. As melodias intensas e vibrantes deixam o instrumental passar do Prog ao Psicodélico com grande maestria, mantendo o som nostálgico e espontâneo. O melhor álbum do ano! Não deixe de ouvi-lo!