Por Pedro Kirsten
Há 35 anos atrás era lançado Come Taste The Band, o décimo álbum de estúdio do
Deep Purple
que continua até hoje sendo apreciado por muitos e criticado por outros que não concordavam com a direção musical que banda tomou neste álbum.
Em 1974 o Deep Purple havia lançado o álbum Stormbringer, o segundo e último a contar com a formação Mk III que consistia em:
David Coverdale
(vocais), Ian Paice (bateria), Jon Lord (teclados),
Glenn Hughes
(baixo, vocais) e
Ritchie Blackmore
(guitarra). Neste álbum os elementos do funk e soul que a banda já havia começado a incorporar de leve em seu sucessor, Burn (1974), ganharam ainda mais destaque, fato que não agradou o guitarrista Ritchie Blackmore que deixou a banda em 21 de Junho de 1975 e formou o
Rainbow
.
Com a saída de Blackmore muitos duvidavam que o Deep Purple fosse seguir em frente, mas David Coverdale encorajou Jon Lord para que a banda continuasse e foi o que aconteceu. O próximo passo era encontrar um novo guitarrista. A banda não queria uma opção óbvia demais, que servisse apenas para ocupar a vaga deixada por Blackmore, eles queriam alguém com um estilo diferente e que tivesse algo de novo para acrescentar, logo acabaram optando, para a surpresa de muitos, pelo jovem Tommy Bolin.
Ainda pouco famoso, Bolin era reconhecido pelo seu trabalho como músico de estúdio e já havia gravado com músicos como Billy Cobham e na banda James Gang. Quando o convite para integrar o Purple foi aceito Tommy Bolin estava trabalhando em seu primeiro álbum solo chamado Teaser, que foi lançado em Novembro de 1975 e recebeu avaliações bastante positivas da crítica especializada.
A influência do funk estava mais evidente do que nunca, porém todo o peso do hard rock ainda estava lá, sendo arrastado pela guitarra de Tommy Bolin o principal responsável pela nova cara do Deep Purple. Mesmo com a enorme qualidade das canções o álbum foi muito criticado por uma parte dos fãs que não aceitavam a nova direção da banda e diziam que este não era um álbum do Deep Purple.
A abertura fica por conta da frenética
Comin' Home
, porém o baixo que é ouvido na versão de estúdio não foi tocado por Glenn Hughes e sim por Tommy Bolin. O motivo foi que Glenn Hughes não recebeu a backing track para que pudesse trabalhar na música e quando ele se reuniu com o restante da banda na Europa a música já estava gravada com Bolin no baixo e Jon Lord no backing vocal, por isso pode-se ouvir um backing vocal mais grave durante o refrão que de fato não é de Hughes.
Lady Luck
foi escrita originalmente por Jeff Cook que era vocalista do Energy, banda de Tommy Bolin no início dos anos 70 e que nunca chegou a lançar um álbum oficialmente. Durante um ensaio Bolin começou a tocar a música, a banda gostou e decidiu gravá-lá, porém Bolin não se lembrava completamente da letra, então Coverdale escreveu uma nova.
O momento mais marcante de Bolin no Deep Purple talvez seja em
Gettin' Tighter
que foi escrita por ele e Glenn Hughes que também é o vocalista durante a canção. Esta acabou sendo a única música que foi composta exclusivamente pelos dois. Na época os dois moravam juntos em Beverly Hills e em uma noite Bolin apareceu com o riff principal, os dois sentaram e trabalharam juntos na letra e no resto da música.
Certa madrugada no estúdio onde o álbum estava sendo gravado, Martin Birch estava mixando a parte instrumental de
Dealer
e Coverdale estava dormindo. Glenn Hughes então perguntou se podia gravar os vocais para Birch, ele disse que sim e Hughes cantou os versos e a ponte e depois foi embora. Cerca de três semanas depois quando o álbum estava completamente mixado Glenn Hughes estava no Rolls-Royce de Ian Pace e colocaram o álbum para ouvir pela primeira vez, na hora de
Dealer
Hughes ficou na expectativa e acabou se decepcionando ao ver que era a voz de Coverdale que estava cantando a música e não aquilo que havia gravado.
I Need Love
, escrita por Coverdale e Bolin, é algo mais na vibe de Bolin e também um dos melhores exemplos do que era a sonoridade da Mk IV. O mesmo vale para
Drifter
com algumas influências trazidas por Bolin do James Gang.
Love Child
uma das mais "roqueiras" do álbum dá grande liberdade para Coverdale cantar com todo seu potencial.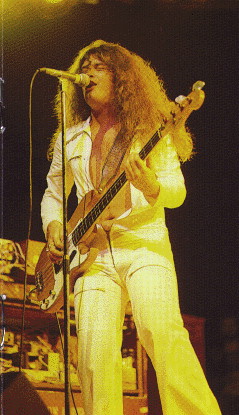 Em seguida chega
This Time Around
, o momento mais pessoal de Hughes, autor da letra, no álbum, segundo ele a letra era "um enorme grito por ajuda" devido aos seus problemas pessoais e abuso no uso de drogas. A música nasceu quando Jon Lord estava tocando algumas coisas aleatórias em seu piano no estúdio às 3 horas da madrugada. Glenn Hughes estava na sala ao lado ouvindo tudo e quando Lord se levantou para ir embora Hughes veio desesperado querendo saber o que era aquilo que havia acabado de ser tocado. 10 minutos depois ele voltou com a letra e os dois gravaram a canção. Quando Bolin ouviu a música pela primeira vez ele comentou que a instrumental
Owed to G
(que havia sido escrita antes do guitarrista entrar para o Deep Purple) possuía o mesmo tempo de
This Time Around
, Lord então sugeriu unir as duas.
O ápice de Come Taste The Band chega na última faixa,
You Keep On Moving
, que Hughes e Coverdale escreveram juntos no flat de Coverdale em Julho de 1973 e era para ser uma música do álbum Burn, porém Ritchie Blackmore achou que ela não combinava com o álbum e ela ficou de fora.
Após o lançamento do álbum o clima na banda não era nada bom, os problemas pessoais dos integrantes estavam atrapalhando e os problemas com drogas de Bolin e Hughes estavam ainda piores resultando no cancelamento de alguns shows da turnê. A decisão de Ian Paice e Jon Lord de encerrar as atividades da banda foi tornada pública em Julho de 1976.
No mesmo ano Bolin havia lançado seu segundo álbum solo e estava em turnê junto com
Peter Frampton
e
Jeff Beck
e no dia 4 de Dezembro de 1976 foi encontrado morto em Miami devido à uma overdose de drogas. Seu último show havia sido na noite anterior, Bolin tinha apenas 25 anos de idade.
Tommy Bolin e Jeff Beck após o último show de Bolin, horas antes de ser encontrado morto.
Oito anos depois o Deep Purple voltaria às atividades com a formação Mk II e lançaria dois álbuns com ela, mas isso já faz parte de outra história.......
Este ano foi lançada uma edição comemorativa de Come Taste The Band, que conta com dois discos, o primeiro com o álbum original remasterizado por Glenn Hughes e o segundo com remasterização de Kevin Shirley e duas faixas bônus nunca lançadas anteriormente, além de
This Time Around
e
Owed to G
estarem separadas. Burn e Stormbringer também ganharam edições comemorativas em seus respectivos aniversários de 35 anos.
O link para download de Come Taste The Band você encontra no
Forum Metal Is The Law
clicando aqui
, é necessário ser um membro para poder visualizá-lo, se você ainda não se registrou
clique aqui
.