Por Guilherme Vaz
Em 2009, o Band of Skulls veio ao mundo apresentando riffs potentes baseados no blues e no rock clássico entre melodias sensuais condensadas em pop, alternando os vocais de Russell Marsden (vocal, guitarra) e Emma Richardson (vocal, baixo) em seu debut
Baby Darling Doll Face Honey
. Durante os 3 anos posteriores ao primeiro álbum, o power trio britânico lançou um EP (
Friends, 2010
), um álbum ao vivo (
Live on KCRW's Morning Becomes Eclectic, 2010
) e o single "The Devil Takes Care Of His Own" presente em
Sweet Sour
, álbum recém lançado.
Se em
Baby Darling Doll Face Honey
, alguns definiram o som da banda como um mix impossível de U2, Coldplay e Clap Your Hands Say Yeah, os pontos para serem tomados como referência em
Sweet Sour
parecem ter melhorado. A esmagadora faixa de abertura, que leva o nome do disco, é um sludge à la Black Sabbath, porém com as características do trio: vocais em uníssono e um refrão sutil e psicodélico. Já "Bruises", é uma balada crescente estilo Radiohead, com trechos mais agressivos. Além dessas, "Wanderlust" traz similaridades com My Morning Jacket, em passagens atmosféricas e falsetes, com o diferencial de uma linha de guitarra vintage e toques de prog rock.
Outras comparações podem parecer mais óbvias, The Black Keys, The Kills e The Dead Wheater, em faixas que traçam um paralelo do blues e rock de garagem ao indie como: "The Devil Takes Care of His Own", "You're Not Pretty But You Got It Goin' On" e "Lies".
As lindas canções "Lay My Head Down", "Navigate" e "Hometowns" demonstram a banda mais do que eficaz na criação de composições introspectivas e ainda surpreendentes, onde o baterista Matt Hayward (destruidor ao longo do restante do disco) se apresenta mais comportado.
Sweet Sour
apresenta o trio ainda mais flexível, partindo de canções puramente densas à composições com toda a sutileza do folk. Assim, a Band of Skulls se mostra com alguns dos melhores e mais versáteis músicos de toda a cena indie atual. Álbum melhor do que o esperado.
Nota: 8,5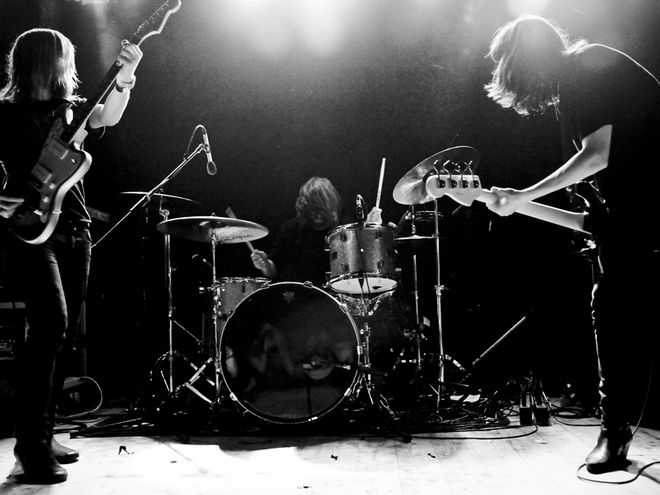 Tracklist:
01 – Sweet Sour
02 – Bruises
03 – Wanderluster
04 – The Devil Takes Care Of His Own
05 – Lay My Head Down
06 – You're Not Pretty But You Got It Goin' On
07 – Navigate
08 – Hometowns
09 – Lies
10 – Close To Nowhere
Ouça: "The Devil Takes Care Of His Own"